Victory Seventh-day Adventist Church – APP Website
The Victory Seventh-day Adventist Church is one of the 86, 576 churches of the global religious denomination named Seventh-day Adventist.The Seventh-day Adventist church is a Christian denomination, with churches, schools, hospitals and disaster relief agencies located around the world. Seventh-day Adventist Churches are located in 235 countries and areas of the world as recognized by the United Nations ( Summary of Statistics as of December 31, 2018 – https://www.adventistarchives.org/quick-statistics-on-the-seventh-day-adventist-church) Our Local Conference (local organization over- seeing all Seventh-day Adventist churches within our locality, of which there are 205 churches – (https://www.gnyc.org/Find-a-church) is the Greater New York Conference of Seventh-day Adventists (gnyc.org).
All Seventh-day Adventist Local Conferences are accountable to a level above called a Union Conference. These Union Conferences report to another level above called a Division and the final administrative level in the operations of Seventh-day Adventist Churches is a body called the General Conference of Seventh-day Adventists. This level is the highest level of administration in the global structure of the Seventh-day Adventist church.
Leadership Team:
Our leadership team recognizes the authority of God, and realizes that we are shepherds who serve under the Chief Shepherd, Jesus Christ. We desire to devote ourselves to prayer and to the ministry of the Word. Our passion and goal is to equip the believers for the work of the ministry until we all attain maturity in the fullness of Christ.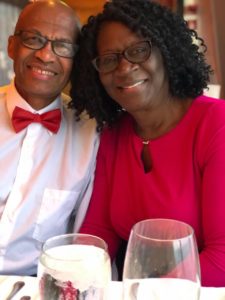 Drs. Milton and Gloria Gregory
Dr. M. G. Gregory is an ordained minister of the Seventh-day Adventist Church and he has served the Seventh-day Adventist Church for over 34 years in three of the local conferences of Jamaica, West Indies – having worked as District Pastor in the West, Central and East Jamaica Conferences; and two of the Jamaica Union Conference of Seventh-day Adventists Union institutions.
Dr. Gregory has a Bachelor's degree in Theology (Northern Caribbean University); Master of Science Degree in Public Health (Loma Linda University), a Master of Arts degree in Religion (Andrews University) and a Doctor of Ministry (Northern Caribbean University).
He has certificates from several institutions including Caribbean Food and Nutrition Institute, Pacific Health Education Centre, California and completed one unit of Clinical Pastoral Education at Florida Hospital U.S.A. He holds membership in the American Public Health Association.
Married for 34 years to Gloria, nee Barnes, a former the Dean of the College of Education and Leadership at Northern Caribbean University, Jamaica. West Indies. He and his wife are proud parents of two adult daughters, Kadia and Keleen, two sons in-law, Joseph and Alister and one granddaughter, Azoya. Dr. Gregory states that his mission in life is to help people to be healthy, happy, and holy.
Pastor Albert B. and Ashley Peterson
On June 4, 2016 Pastor Peterson and his family officially joined the family of Victory Seventh-day Adventist Church as the Associate Pastor. Pastor Albert B. Peterson II was born and raised in Pittsburgh, Pennsylvania. His parents, Albert and Talaine Peterson, have 8 children. Albert is number 6 and his twin is number 7. Albert attended preschool to 12th grade in public schools.
While living in Maryland, God impressed him to go to Oakwood College for his pastoral career. There he obtained a B.A. in Theology and a M.A. in Pastoral Studies. While at Oakwood and following graduation, Albert had the privilege of serving at First SDA Church under the leadership of Pastor Ben Jones, then under Pastor Debleaire Snell along with Pastors Alfred Hill and Alfonzo Greene III.
In January 2013, he accepted the call to Pastor in Southern California Conference with the late President Larry Caviness and the late Dr. A. J. Kelly.
Albert has taught Religion at Los Angeles Adventist Academy, and served as the Youth and Associate Pastor at University & Miramonte Blvd SDA Churches in Los Angeles, CA.
On August 15, 2015 Albert was ordained to the Gospel Ministry. He loves to serve the Lord in any capacity, especially with youth and children.
CONTACT INFO:
Email: mgmilory@gmail.com
Telephone: 914-572-1611
Pastor Albert B. Peterson II,
Associate Pastor
CONTACT INFO:
Email: peterson.albert@yahoo.com
Telephone: 412-608-6220
Role of Pastors
Every church, whether large or small, needs a pastor who will shepherd, lead, feed, and guide the people to spiritual growth and service for the Lord Jesus. Pastors shepherd God's people by caring for them. Sheep that are ill or in distress rely upon their shepherd to tend to them. And when God's people are distressed or uncertain, they rely on their pastors to bring comfort, instil wisdom, and offer prayer. "Is anyone among you sick? Let him call for the elders of the church, and let them pray over him, anointing him with oil in the name of the Lord" (James 5:14). The pastor has a special function in caring for the people in his charge.