Victory Seventh-day Adventist Church – APP Website
The Victory Seventh-day Adventist Church is one of the 86, 576 churches of the global religious denomination named Seventh-day Adventist.The Seventh-day Adventist church is a Christian denomination, with churches, schools, hospitals and disaster relief agencies located around the world. Seventh-day Adventist Churches are located in 235 countries and areas of the world as recognized by the United Nations ( Summary of Statistics as of December 31, 2018 – https://www.adventistarchives.org/quick-statistics-on-the-seventh-day-adventist-church) Our Local Conference (local organization over- seeing all Seventh-day Adventist churches within our locality, of which there are 205 churches – (https://www.gnyc.org/Find-a-church) is the Greater New York Conference of Seventh-day Adventists (gnyc.org).
All Seventh-day Adventist Local Conferences are accountable to a level above called a Union Conference. These Union Conferences report to another level above called a Division and the final administrative level in the operations of Seventh-day Adventist Churches is a body called the General Conference of Seventh-day Adventists. This level is the highest level of administration in the global structure of the Seventh-day Adventist church.
Leadership Team:
Our leadership team recognizes the authority of God, and realizes that we are shepherds who serve under the Chief Shepherd, Jesus Christ. We desire to devote ourselves to prayer and to the ministry of the Word. Our passion and goal is to equip the believers for the work of the ministry until we all attain maturity in the fullness of Christ.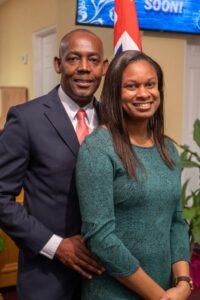 Pastor Jeff and Tricia Jefferson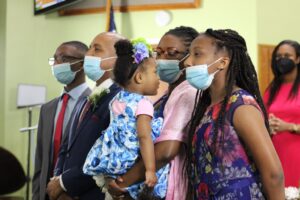 Pastor Dorrage Stephens & Family
CONTACT INFO:

CONTACT INFO:

Role of Pastors
Every church, whether large or small, needs a pastor who will shepherd, lead, feed, and guide the people to spiritual growth and service for the Lord Jesus. Pastors shepherd God's people by caring for them. Sheep that are ill or in distress rely upon their shepherd to tend to them. And when God's people are distressed or uncertain, they rely on their pastors to bring comfort, instil wisdom, and offer prayer. "Is anyone among you sick? Let him call for the elders of the church, and let them pray over him, anointing him with oil in the name of the Lord" (James 5:14). The pastor has a special function in caring for the people in his charge.