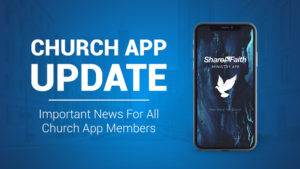 In case you missed our former Church App, we have released our brand new App which is powered by the Sharefaith church app technology. Now our church has joined thousands of other churches on this new cutting edge platform – the Sharefaith App platform! Our Media and Communication staff is excited to introduce it . The new App offers and will continue to offer dynamic content for your personal information, spiritual growth and edification; and best yet, a new evangelism tool. We encourage you to Share It!
Benefits

Of The New Sharefaith Church App

Easy to find our church via the Sharefaith App search feature. Search! Select our church! Select "My Icon"! Download the App and enjoy all our content!
This new platform ensures our App is up-to-date with the latest and greatest features as well as set up to work for the latest version of iOS devices.
A dynamic and new interface without the restrictions once encountered because of Apple's restrictions.
Ability to add and load a large volume of content via the integrated App's Mobile Web site (WHICH YOU ARE READING THIS ANNOUNCEMENT ON) ; as well as pull content directly from our soon to be released new website, also powered by Sharefaith.
Costing a fraction of the separate costs we previously paid for hosting our website and former App on separate platforms.
Enjoy some of the conveniences of our former App – online giving – and new content such as the ability to easily listen or watch previous sermons. Now you can take "your best sermons" with you to share with others or as an immediate tool of encouragement.
A more simple access to our online broadcast. Go ahead check it out!
The Sharefaith App becomes your very own church app. You don't share anything with any other churches.
Church app icon switching! The Sharefaith App will allow us to set our very own church app style; anytime without incurring any additional "change cost". It's like dressing our App in the latest "fashion" as frequently as we please. 🙂
Direct download links to audio and video content.
The Sharefaith App is still 100% free for all to enjoy. Complete, with lifetime support!
A easy means to receive bulk announcements, send announcements to our Church Clerk Department and other ministries or admin personnel. (You must be registered in our church's database. If you have not previously done so visit members http://membership.victorysda.org/ to include your data)
Locate the App and download using our own QR Code soon to be in our church's bulletin with quick instructions on how to download the new app.
Ability to send you instant notifications from the App.
Just follow the directions below to get started as soon as you delete the old App. Let's go Church
hAPPening. 🙂
WATCH OUR PROMO VIDEO BELOW